| | |
| --- | --- |
| Your Neighbor Cuts Jeans, Fucks Dildo in Ur Shower | |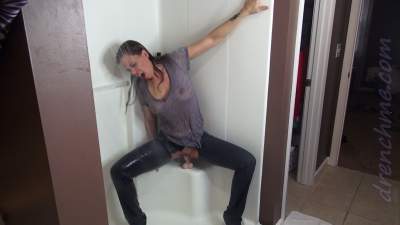 Starring the following model:
"Naughty neighbor cums over to shower! Fucks dildo fully-clothed for you!"
| | |
| --- | --- |
| File count: | 1 |
| Total size: | 697.74 MB |
| Total runtime: | 12 mins, 1 sec |
| Date added: | 12/05/17 |
| Year produced: | 2017 |
| Views: | 2412 |
| Scene ID: | 25921 |

$20.00



Your crazy but hot and slutty neighbor has come over wanting to borrow your shower real quick! Of course you let her in like always because you're a single dude and she's hot! She hops into your shower fully-clothed right in front of you and begins to soak her t-shirt and jeans. You can see right through her shirt that she isn't wearing a bra and you wonder if she isn't wearing panties either. She's soaking wet and she gets out of the shower and grabs your surgical scissors off the hook and begins cutting her jeans open at the crotch and rubbing her pussy right in front of you and you can't believe this hot slut is masturbating in your shower! She grabs a dildo and shows it to you with a naughty smile on her face and puts it in her mouth to tease you, then she sticks it to the wall and turns around and slides her pussy over it in doggystyle position and begins to fuck it, in and out, she starts to fuck faster and faster, she's getting hot and she wants a deeper fuck, so she puts the dildo on the shower seat and sits down on it and lets the entire shaft go into her pussy. She fucking loves it and she's riding it hard and fast and moaning louder and louder as she fucks faster and faster! She leans back and grabs the dildo with one hand and begins to shove it in and out of her cunt as fast as she can as her pussy explodes and she cums all over the cock! You'll be cumming hard too as you watch her give herself a hard and fast wet dick down in denim!

Report