| | |
| --- | --- |
| Jayce Swims in Sexy Blazer, White Blouse, Skirt! | |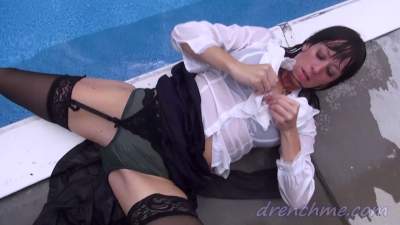 Starring the following model:
"Jayce gets sexy in the pool in a blazer, blouse, skirt, stockings, heels!"
| | |
| --- | --- |
| File count: | 1 |
| Total size: | 417.25 MB |
| Total runtime: | 14 mins, 9 secs |
| Date added: | 10/14/17 |
| Year produced: | 2017 |
| Views: | 3163 |
| Scene ID: | 24855 |

$5.99



Jayce is ready for a sexy swim on a hot summer day! She's wearing a pretty white ruffle front blouse, gray blazer, navy pleated short skirt, silky olive green colored full bottom panties with black garter belt and stockings, black push up bra and black suede Mary Jane style stiletto heels. Her long hair is loose and straight. She is looking smokin' hot and ready to be cooled down! She starts off by kneeling next to the pool and dipping her heels in, getting the suede saturated and filling her heels up with water! She slips down into the water in the shallow end to test the water, getting her clothes drenched! She climbs back out of the pool so you can see how her clothing looks wet, then she walks over to the deep end and jumps right in, getting fully soaked now! She swims over to you and rests her arms on the side of the pool, then kicks her legs up on the side, giving you a clear view of her wet Nylons and right up her skirt to her soaked silky panties. She fully submerges herself again, making sure she's completely soaked for you, then she climbs out, sits on the side and takes off her jacket. You can now clearly see her sexy bra under the wet white blouse! It's sexy and exciting, her legs are spread and you can also see up her skirt to her hot panties! She dips back down into the pool and swims over to the ladder and climbs out, showing off her dripping wet sexy body and clothes! Next, she lies on the side of the pool, giving you a clear view of her sexy ass in wet panties! She rolls over so you can peruse her front, unbuttoning her blouse enough to let her sexy black bra peek out. She's starting to show off her sexy stockings, working her legs and teasing you, then she takes off her heels and cannonballs back into the water! She's soaked again, and she climbs back out to lie on the side and show off some more, she gets on her hands and knees and dunks her head into the pool, then takes off her blouse, she looks extra naughty now, in just her skirt and lingerie! She sits on the side of the pool talking to you and showing off her sexy legs and feet in black Nylon! A hot and sexy wetlook and leg show by our hot amateur milf, Jayce!

Report